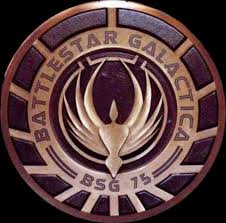 SPOILER WARNING: This entire post is a giant spoiler for the Battlestar Galactica Season 5 4.5 finale, so I've tucked it behind the fold.
Battlestar Galactica ended with a bit of an anti-technology whimper. Humans and Cylons alike tossed their Vipers and their antibiotics into the sun in exchange for a new start. Alongside pre-speech humans, space warriors scattered over Earth, hunting and gathering and farming their way into our own glorious future.
But what was the Earth of 150,000 years ago really like? What was the climate like in Tanzania (where Adama mopes in his cabin) and Britain (where the Chief mopes in exile)? What giant predators might Lee encounter as he explores? And what is mitrochondrial Eve, anyway?
150,000 years ago, the Earth was in the midst of the the Pleistocene Epoch.  The continents were in about the same positions and many of the same plants and animals were doing their thing. But the climate was wildly different. Glaciers rose and retreated and rose and retreated, changing the world's ecosystems each time. And 150,000 years ago was the maximum of the second-to-last, or penultimate, Pleistocene glaciation. (The final glaciation is the one we think of as the Ice Age, that ended only 10,000 years ago.)
Because of the penultimate glaciation, the African climate was colder and drier than today. North Africa was probably still desert and central Africa a grassland. But the biggest different is in Europe – southern Europe was a chilly steppe and Britain may well have been frozen under the Munsterian glacier. The Chief's self-imposed exile may be even colder and more exile-y  than he thought, what with starving on top of a giant pile of ice. Maybe he's really in exile on the Canary Islands?
The Pleistocene is also known for vast herds of giant mega scary mammals. And it seems like most of these would have been around to eat or be eaten by the Galactica survivors. The steppe mammoth and the European jaguar roamed southern Europe, while the Americas were covered in direwolves and giant sloths and 10-foot tall short-nosed bears. African animals, which were least affected by the late Pleistocene extinctions, would have looked relatively similar to today. Which is to say that they were big and hungry and scary.
What about Hera as the mitochondial Eve, the mother of us all? That is a real biological concept, nicely explained by Peggy over at Biology in Science Fiction:
Unlike the chromosomal DNA which we inherit equally from both parents, our mitochondria are inherited only from our mothers. That means that geneticists can use the sequence of our mitochondrial DNA to follow maternal inheritance2. They followed this back for many many generations, until they arrived at the most recent woman who is the ancestor of all presently living humans. She is "Mitochondrial Eve" and she lived roughly 150,000 – 200,000 years ago….

She's not our most recent common ancestor or even our only common ancestor. She's not the only woman who was living at the time. She may not be the our common ancestor for chromosome 1 or 7 or 20.
So, 150,000 years ago, Tanzania was pleasant (unless you got eaten or trampled), the Chief was probably not in Britain (unless he was living on a glacier),  Lee should have explored the supercool sloth-ridden Americas (until he got eaten or trampled), and Ed Yong's theory of Starbuck's demise is reasonably likely:
Perhaps when Lee turned his head, Kara was quietly eaten and carried away by a leopard.
And in fact, the Galactica survivors may not have survived very long at all. According to mitochondrial genetic evidence, humans almost went extinct 150,000 years ago. The population could have been as small as 2,000 individuals – so not only might the Galactica survivors have killed most of the primitive humans, but they subsequently died off themselves.
Welcome to 150,000 years ago! Please enjoy your nasty, brutish, and short stay here in Pleistocene Earth. Though I would love to ride magnificently about on a giant ground sloth, I'd really rather have modern medical care and the internet.